A
website
is like an open window on the world, 24 hours 24, 365 days a year. Accessible to everyone, without the need to make large displacements or looking for a parking space. A new form of human interaction, economic or otherwise, has taken hold by now almost 25 years. If you do not take this opportunity now, you will risk to remaining isolated, as happended to many, crushed by the economic crisis of the recent years.
The
realization
of any website require a thorough knowledge of various programming languages and technologies like php,
javascript
, html, css, flash and others. Of course, even in the Internet exists the do-it-yourself, which can also be very funny. But when you rely on a such powerful medium like internet to
promote
your business and want to gain more visibility, you must entrust it to professionals who know their job and know how to orient themselves in the virtual jungle. The web agency Zengrafic deals with: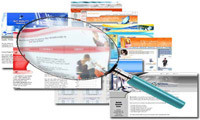 Want a thorough analysis of your website /blog, to make it more functional, attractive and interesting? You need to make
online advertising
for your business but do not know how? Looking for a team of professionals who can advise you what kind of website is right for you? You're in the right place! Just
contact
us or call us at +39 331/90 85 693 for any kind of information.