Our Services
Building websites is our job. Whatever's the necessity or available budget. The experience of the web taught us what are the key factors for the success of a website: above all semplicity and clarity, but also an excellent positioning in the search engines and a graphic interface that is able to unite stylish looks with an efficient information transmission. The special effects are useless if they hide the necessary information, but also a too simple and boring page may not encourage surfers to linger on the website.
It's necessary therefore a balance to achieve these goals, and we need your help to accomplish it, so we can understand your tastes and needs of your business. You can also start from now, without any commitment, by
writing
us to get more information or advice about what could be the key to development further your company.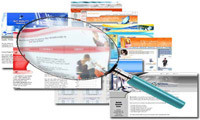 Want a thorough analysis of your website /blog, to make it more functional, attractive and interesting? You need to make
online advertising
for your business but do not know how? Looking for a team of professionals who can advise you what kind of website is right for you? You're in the right place! Just
contact
us or call us at +39 331/90 85 693 for any kind of information.