Portfolio websites
Below you can find some of the art work realized by Zengrafic. Watch and judge the quality, commitment and the precision with which we carry out the
projects
of our clients, so you can also begin to make a concrete idea about
your future website
, online shop, cms or similar.
We update this gallery regularly, because we want to show the originality of technical solutions and design that characterizes all our products: a site signed
Zengrafic
is something unique and of the highest quality, in its functionality as in his look. This is thanks to the confidence in our team, determined to work for you and
with you
, to create of a digital dynamic and efficient space that will be noticed for sure on the web. Happy surfing.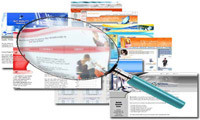 Want a thorough analysis of your website /blog, to make it more functional, attractive and interesting? You need to make
online advertising
for your business but do not know how? Looking for a team of professionals who can advise you what kind of website is right for you? You're in the right place! Just
contact
us or call us at +39 331/90 85 693 for any kind of information.